It had been one year exactly since Gerald Heathrow first visited the antique shop in a blue silk suit and brown loafers without socks. Usually the rich dressed the worst. Most of the time they weren't all that smart either. And if I was really lucky, they would be entirely too trusting too. To what I thought was my good fortune, Gerald had been all three.
He asked for an estimate on a Kleinz lantern from the early 1600's. It was a nice piece, Shastin, solid brass, never repaired, with only two pressure dings on its belly.
I quoted him a price of $9,000 and offered him the same, cash on the spot, if he wanted to let go of it. He politely declined, proudly saying it would compliment his growing collection. That was my cue. After we spoke at length of antiquities and he left, I photocopied the estimate and later that night made an entry in my black book with the date and the following notes: silk suit, sock less loafers, Gerald, growing collection, idiot.
You see, if you waited a year before you robbed a client, chances were their affiliations with your company wouldn't be scrutinized since police detectives usually only questioned more recent acquaintances - going back a full year was just too much to ask. In fact, there had been only a few instances where a sharp Detective actually backtracked all the way to the store where I worked. But as nerve-wracking as those times had been and as much as I had sweated bullets every time a cop car parked at the meters alongside our front window, their investigation never went beyond a few simple questions with a suit-and-tie police officer scribbling in a black notebook. Neither I nor my assistant Sandra had a criminal record either, which helped deter further snooping by the police.
To read the rest of this story, you will need to download the free Kindle reader program from Amazon. It's called "Kindle for PC". You can download it for free here: Download Kindle Reader for PC
After you've downloaded and installed the Kindle for PC program, you can then get a copy of my book through the below links. For a limited time, I've reduced the cost of my books to 99 cents.
Click to purchase Fat Beaver and the Crucifix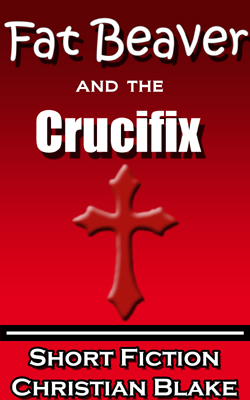 Don't own a Kindle?
Download the Kindle app - It's free!